THREE MAIN INGREDIENTS:
> Protein contributes to the growth and maintenance of muscle mass.
> Zinc contributes to normal protein synthesis.
> Sant'Anna Water is a water with distinctive values that rehydrates lightly and stimulates diuresis.


AVAILABLE IN 2 FLAVOURS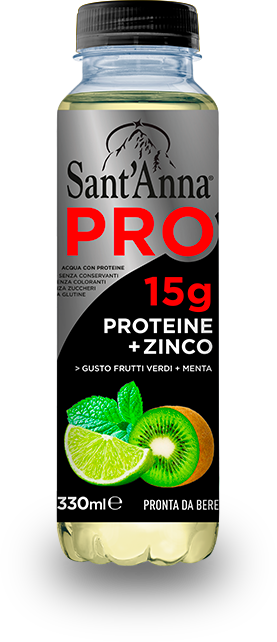 AVAILABLE IN 2 FLAVOURS
Scientific studies have shown that the intake of
15g
of protein per day, accompanied by regular physical activity*:


INCREASES
LEAN MASS
INCREASES
BONE MASS
INCREASES
HAND GRIP STRENGTH
INCREASES
LEG STRENGTH
INCREASES
ISOMETRIC STRENGTH
INCREASES
SKELETAL MUSCLE MASS
DECREASES
FAT MASS
*Beneficial effects can be achieved by taking 1 bottle a day for 12 weeks. The product is not intended as a substitute for meals and a healthy, balanced diet.