To sip one of SanThè Benessere (Well-being) iced teas is a taste experience. A thirst-quenching trip around the world in pursuit of new ingredients, to discover secrets about fruit and spices along with the origins of diverse tea and wellness cultures. We begin with the eastern enticement of ginger; for Turmeric and Coconut we fly to the tropics; arriving at the traditions of northern Europe, we savour the excellence of blueberries. SanThè Benessere teas are prepared using traditional methods: with genuine tea infused in Sant'Anna water. They are handled in order to provide the perfect balance of taste with selected fruit and spices. SanThè Benessere teas refresh the desire for an iced tea that is increasingly more natural with an international flavour.
Fruit. Vegetables.
Water. Well-being.
Goji & Raspberry
---
Fruits of a bush of Tibetan origin, GOJI berries are the stars of many traditional Chinese medicine recipes.
Rich in mineral salts and vitamins, they combine perfectly with the properties of soft berries and especially with the taste of RASPBERRY.
This is where SanThè Sant'Anna Goji & Raspberry comes from, a new tea with an original fruity flavour in the Benessere line.
African tea & Orange
---
ROOIBOS is a plant that typically grows in South Africa. A natural source of vitamins and used since antiquity for boosting the immune system, a drink has been obtained from infusions of it with a characteristic red colour, known as AFRICAN RED.
Sant'Anna combines the Rooibos infusion with citrus notes of ORANGE. And so originates SanThè African Tea & Orange, a drink with unique red nuances, like passion.
Peach & Dog Rose
---
An ancient plant dating back over forty million years, DOG ROSE has always been appreciated for its antioxidant properties and tonic action. SanThè Sant'Anna combines its qualities with the rounded flavour of Peach, offering a new tea that is delicate on the palate and has an irresistible perfume.
Mint and Lime
---
MINT is an aromatic herb with analgesic and decongestant benefits and is widespread in the Mediterranean. According to Greek mythology, its name comes from the beautiful nymph Minthe, who was changed into a plant because of the jealousy of the wife of the god Hades. LIME is a citrus fruit of Asian origin with depurative properties and an unmistakeable aroma. It is the marriage of these two ingredients that gives life to SanThè Sant'Anna Mint and Lime: the ideal tea when you want a cool, perfumed and particularly thirst-quenching drink.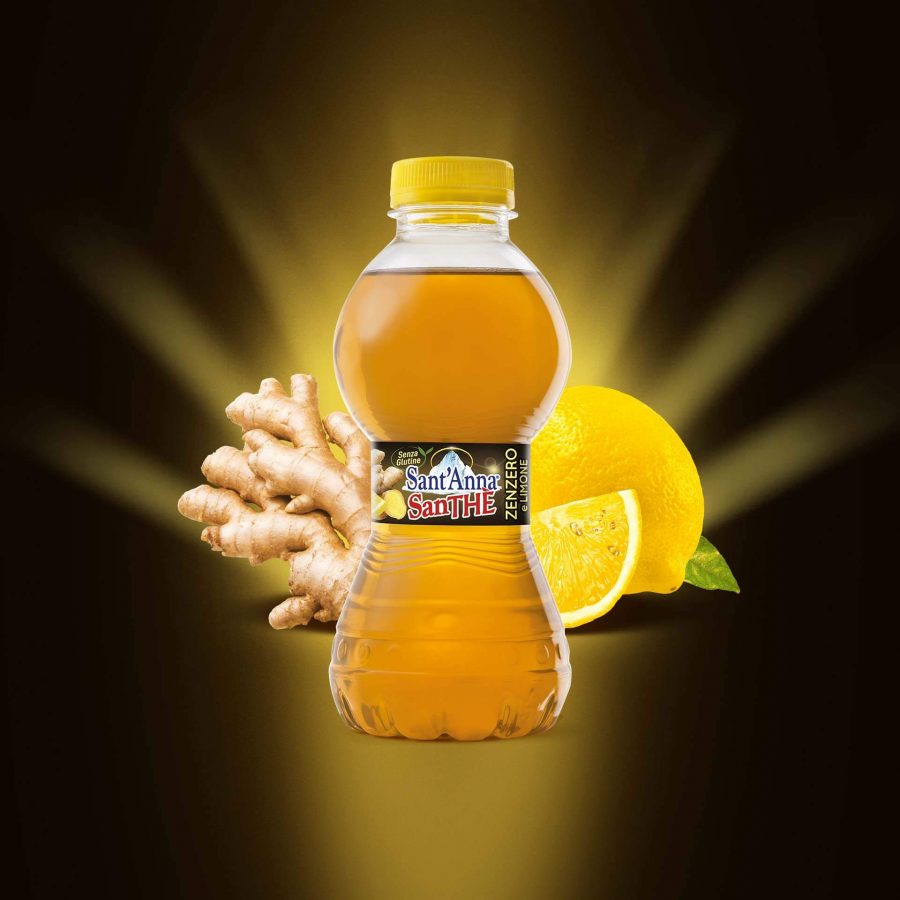 Ginger and lemon
---
GINGER and LEMON are two ingredients considered to be natural remedies. Eastern tradition says that, when taken together, their beneficial effects increase, making this duo into a great drink, rich in healthy qualities. GINGER and LEMON SanThé combines the taste along with the lightness of Sant'Anna mountain water and is naturally gluten free, with neither colourants nor preservatives. Lemon Ginger SanThé is an indulgent innovation that enhances the taste of pampering oneself.
Pomegranate
---
The POMEGRANATE has many beneficial characteristics from its Middle Eastern origins. With its ruby red coloured berries and its sweet Mideast rooted taste, it is highly regarded in the natural health field, especially when put together with the properties of green tea. Pomegranate SanThè is prepared with the genuine brewing of Green tea in Sant'Anna Water. The rich taste of Pomegranate Benessere SanThè will win over those who love to treat themselves well without giving up pleasure.
---